Three Victorian Engineers whose works last to this day
John Brereton (1723-1785) of Brinton who married Bridget Brett in 1749 had 4 sons, John (see below) and his twin Abel , William, and Robert John of Blakeney (see below).
2 of his grandsons, R.P. Brereton and R.M. Brereton, became important engineers, learning their profession under the famous Isambard Kingdom Brunel working on the Great Western Railway. A great grandson, C.A. Brereton, built the bridge over the Thames at Kew.
Robert Pearson Brereton
Descent from John Brereton's son, Robert John Brereton (1760-1831) ...
.....Robert John Brereton (1796-1858)
............ Robert Pearson Brereton (1819-1894).
RPB joined Brunel in 1836, aged 17, and became his chief assistant in 1844, aged 25, and took over responsibility for completing various projects when Brunel died in 1859.
In 1845 Brunel described RPB as, "my assistant, a peculiarly energetic persevering young man." Brunel wrote to Herschel Babbage, his resident engineer in Italy, "I think of bringing Brereton over to you for the tunnel. He has more experience than any man I have...."
RPB did indeed go to Italy in 1845 to help sort out complications in the construction of the Genoa to Turin Railway.
RPB lost an eye in an explosion while working on the Great Western Railway. He is depicted with a black eye patch in 2 portraits in Bristol.
Robert Pearson Brereton with Brunel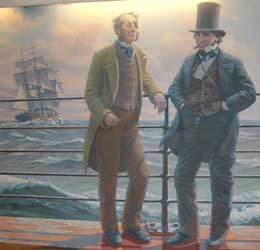 (click for large image)
This mural in the Hayward Room on s.s. Great Britain in the dry dock in Bristol was painted in 1997 based on a portrait of RPB in Bristol Technical College.
He worked on the Royal Albert Bridge across the River Tamar at Saltash, and supervised nearly all stages of construction since Brunel who was first too busy then too ill to attend.
The opening of the Royal Albert Bridge.
Another Brunel Project that he completed in 1862 was the West Somerset Railway. Thanks to research by Chris Arend for the following report by RPB to a meeting of the company directors held on 29 March 1862.:
18 Duke Street, Westminster

Gentlemen,
The works upon the entire length of the railway between Taunton and Watchet have at length been brought to completion. The permanent way has been laid throughout, not withstanding the wetness of the season, in good working order. The loop lines or sidings at the stations as well as the station buildings have been completed ready for traffic. The erection of the goods sheds will proceed at once. At Watchet new works of the harbour have been finished so as to admit of proceeding with the sidings which will connect the West Somerset Railway with the quays and wharves. These will be completed as soon as possible. A locomotive engine passed over the railway on the 6th instant, and the Government inspection on behalf of the Board of Trade took place on the 8th. The report of the inspecting officer as to the sufficiency of the works was satisfactory. Some trifling operations connected with signals and some minor details were also required and have been carried out. The railway was formally opened on the 27th and will be opened by the Bristol and Exeter Railway Company for public traffic on Monday next.

I am, Gentlemen, yours obediently,
R. P. Brereton
Robert Maitland Brereton
Descent from John Brereton's son, John Brereton (1752 - 1823).....
....... Rev. Charles David Brereton (1790 - 1868) of Little Massingham, Norfolk.
.............. His youngest son was.....
... Robert Maitland Brereton (1834 - 1911)
Robert Maitland Breteon also trained under Brunel from 1852-1856 at the time that his second cousin Robert Pearson Brereton was Brunel's chief assisstant.
I thank Ted H Pope of San Luis Obispo, California, Robert Maitland Brereton's great grandson, for his picture and the following biography:
Educated privately, and at King's College, at the Royal School of Mines in London, and under Isambard Kingdom Brunel. Employed under Brunel on building of s.s. Great Eastern, New Paddington Station, Saltash Bridge, Devon & Cornwall Railway; under Robert Stephenson, James J. Berkley, and Robert W. Graham, on Great Indian Peninsula Railway, 1856-70; Chief Engineer of Bombay, Nagpore, and Calcutta portion thereof, 1867-70; Consulting Engineer for irrigation in the Great Valley of California, on 7,000,000 acres, at that time the first largest irrigation enterprise in the United States, 1871-76; went to Washington DC, in 1872-73, to interest Congress and President Grant in irrigation on the Pacific coast, and got Congress to pass its first Irrigation Act, which was approved by President Grant on March 3rd 1873, and formed the nucleus of the later Irrigation and Reclamation Service of the United States; Consulting Engineer and General Manager of the Richmond Mine, Eureka, Nevada, 1877; County Surveyor of roads and bridges for Norfolk 1878-85; General Manager of the Montana Company's mines near Helena, Montana, 1885; Commissioner to the late Duke of Sutherland in Scotland, 1886-89; Consulting Engineer for irrigation, mining and settlement of lands, in California, Oregon, Washington. Nevada,Idaho, British Columbia, North-West Canada, and Alaska, from 1890-1910; in 1870 made the railway connection between Bombay and Calcutta; employed by the Government of India to report on Allahabad Barracks, and water supply for Nagpore; received twice the thanks of the Government, (1) for services in the field during the Mutiny, and (2) for the early completion of the railway to Calcutta; presented to the Queen, March, 1871, Levee by the Secretary for State for India; reported on American railroad construction for the Government of India, 1871; Consulting Engineer in 1877-78 to Cecil Rhodes and company for water supply for Kimberley Mines, South Africa; received testimonial in 1885 for services on public roads in Norfolk, from all leading landowners and ratepayers of that county, including the autograph of the Prince of Wales (King Edward VII) and that of the ex-prime minister, the Earl of Rosebury, the High Sheriff and lord Lieutenant of the county, and the Earl Kimberley, Secretary of State for India; Member of the Institution of Civil Engineers, 1865; writer on public roads and irrigation matters. Married 1873, Alice, daughter of Issac Fairchild of Waterloo, New York State, U.S.A, and has issue three sons and one daughter. Club: Commercial, Portland, Oregon.
Cuthbert Arthur Brereton
Descent from John Brereton's son, John Brereton (1753-1823)....
........ William John Brereton (1787-1851).......
............. John Brereton ( 1813-1861).............
.................. Cuthbert Arthur Brereton (1850-1910)
Cuthbert Arthur Brereton was a civil engineer and designed.....
Kew Bridge on the Thames.
This was the third and present KEW bridge, built between 1899 and 1903, the architects were Sir John Wolfe Barry and Cuthbert Arthur Brereton. It was opened on 20 May 1903 by King Edward VII and is officially known as King Edward VII Bridge.
Also with Barry he had been involved with the construction of Barry Docks and railways, the Middlesborough Docks, the Surrey Commercial docks, and the great Northern and Piccadilly Tube.
He had previously been resident engineer to the Llynvi and Ogmore Railways, and the Portcawl Docks and was afterwards assistant engineer on the London Inner Circle railway.
He was a lieut.-colonel of the Engineer and Railway Staff Corps.
This page has been prepared by Michael Sandford. Comments and advice welcome!