The Canadian Branch of the Norfolk Brereton Family
With pictures of 5 generations of Breretons
Abel Brereton (1752 -1813) with his
second wife, Elizabeth Lloyd, founded
the Canadian branch through their son
Cloudesley Shovell Brereton ( - 1873).

Cloudesley's children were born at the
family home at Bethany in Ontario.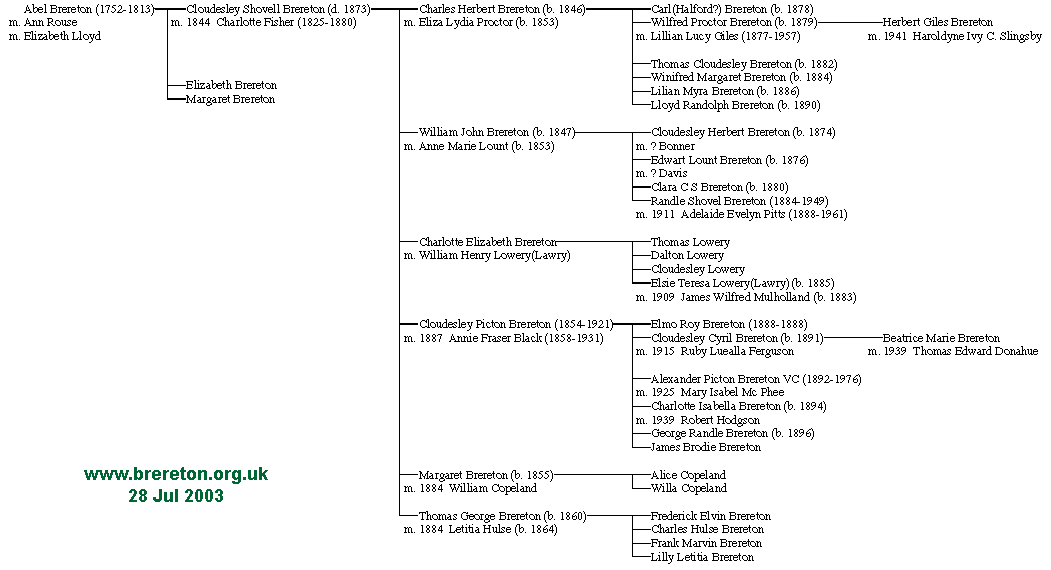 For Abel Brereton's ancestry, please see his twin brother John Brereton (1752 - 1823)
Charles Herbert Brereton MD
was a doctor in Bethany,
and a member of the Ontario legisture.

Charles's son Wilfred Proctor Brereton
obtained a B.A.S. at Pittsbugh and became
a civil engineer, living in Winnipeg in 1915.
His wife died at Penticon, BC in 1957.

Charles's youngest brother
Thomas George Brereton M.D.
studied at Trinity University Toronto
and practiced in Bethany

Herbert Giles Brereton, just home after work at his garage business in Knowlton, Quebec in October 1952. His garage had an Austin dealership. He was serving as a soldier when he married Haroldyne Slingsby in 1941. Herbert was the son of Wilfred Proctor Brereton above.
Thanks to:
Ted H Pope for scanning the images from The Brereton Family of Cheshire - 1100-1904 by Robert Maitland Brereton.
Linda Harper for the joint search for Brereton and Proctor descendants in Canada.
Susan Slingsby for the photo (and others) of Herbert Giles Brereton.
Ian Watson for information on Charlotte Fisher.
Are there more descendants? Please contact michael@brereton.org.uk to exchange more information about this family